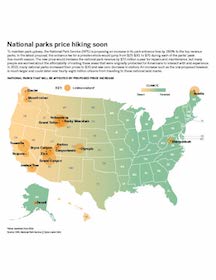 On August 25, 1916, President Woodrow Wilson signed an act that created the National Park Service, which have become long-loved and appreciated outings for people across the globe. The National Parks is comprised of over 400 different areas covering 84 million acres in 50 states.
In my graphic, I created a map of the U.S. and combined it with an area chart to show the number of visitors each year at the seventeen different parks where the cost increase will take place. I also included a key and styled the map to represent the type of landscape each of the parks are known for; orange being dry landscapes, green being lush; in a choropleth of sorts.
Design wise I think my map reads well, but could potentially have spent more time with the background of the map to make sure the landscape scale was more accurate. Overall I am really happy with how it turns out and think it portrays the information well.
Picking a topic came pretty easy to me; I've been to many of these national parks that will be affected and think increasing the cost of park entrances are going to deter a lot of people from visiting.