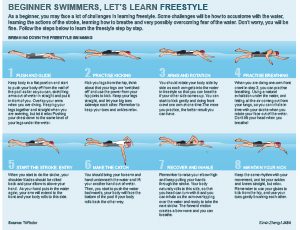 It was a great experience to work on the diagram. My topic is to use this diagram to teach beginner swimmers that how they can freestyle swim step by step.
I break up the steps into 8 steps and order it by numbers through 1 to 8. I also add descriptions of the movement to each step. I think in this way, people can follow and understand the diagram easily and clearly.
In this diagram, I chose the main theme color as blue, not only because the water is water, but I also want to give my audiences and relax feeling of looking at this diagram.  For the text of headline, explainer, and label, I chose to use the greyish blue because people can clearly see this color of text on the light blue background, but it still matches perfectly with the main color theme. For the text of the main graph, I use very light blue and white color on the bottom of the grapy because I can these two texts stand out, but not too sharp. For the text of the graph text, I chose to use the dark grey because it is not sharp like black, but we can also see it clearly on the graph.
Graphing the swimmer is not easy because everybody has many different parts, and some parts are overlapping on others. However, I really enjoy the process of drawing the swimmer and I feel my drawing skill has been improved by doing this assignment.
I love the design concept of the simplicity, I want my audience can understand what content I want to express easily.  I really enjoy this assignment, and I hope I can improve more after this class.