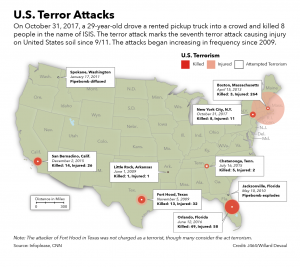 For my second project based on using the skills we learned in the maps unit, I drew a map of the United States and highlighted the recent terror attacks that have happened on U.S. soil. Since 2009, there has been an increase in the frequency of terror attacks following September 11, 2001. My interest in the topic came as I was working on my graphic to highlight hurricane damage along the coast and while researching I heard about the terror attack that happened on Halloween in New York City. A man in the name of ISIS killed eight people with a rented truck. I decided that it would be newsworthy to show the geographic locations of the different attacks and attempted attacks that have happened since 9/11.
Looking back on my graphic, I thought I did a fantastic job in comparison to previous projects in the class. I thought the map of the United States, which I drew (rather than using the map given in the class resources on Canvas) looked very professional in its execution including the darkened edges and consistency in style. I thought that though my callouts did make the final graphic messy, they were helpful and needed. They also had adequate spacing between them. My bubble graphs were useful as well to showing the overall mass of death and injury counts. Overall, I felt that my graphic style has improved since the beginning of the class and moved towards a more professional look. I hope to become more consistent and develop a complete style guide by the end of the class that I can rely on for future projects. One change in particular that I made between now and my Charts project was changing to a sans serif. Before I had a condensed serif text, but I recognized that Avenir Next was more of the style I was looking to use for future projects. Also I stuck to a consistent type size for my various callouts and sources and note sections of the graphic.
Ultimately, I was very happy with my final graphic. The only thing that I hope to learn to do for future projects is learning how to include callout data without cluttering the final graphic.