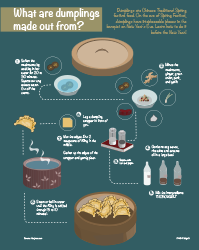 Do this project encountered many difficulties, drawing the three-dimensional of food is the hardest part.
I choose to draw dumplings because the new year is approaching, dumplings are one of the indispensable food for the year, representing the good luck and auspicious. About dumplings I tried to draw a variety of dumplings but in the picture of the plane they don't looks like real dumplings. Finally I abandoned to copy dumplings in photo and painted it by myself. The recipe font uses Noteworthy font that looks like the handwriting, allowing the font and recipe to be unified, while also adding some fun.
About the composition, my favorite part  is to put dumplings on the steamer and hang the lid at top. 
Using AI to paint is really difficult, which needs more experience and practice, but I learned a lot in this semester.