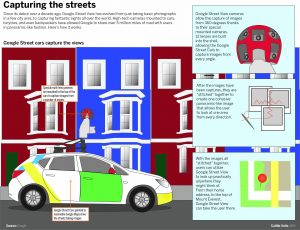 For my diagram project, I had originally intended to do a diagram over the depths that humans, or human-made objects, had reached. However, this turned out to be a little too broad for this project, and a bit out of my skill set. So, instead, I came up with the idea to do something over Google Street View, an idea that originated from our second-to-last class session.
Like with my previous projects, I chose to use BentonSans as my main font throughout the design. I really like the way it looks, and how many different options there are within the typeface. For the main body copy, I used Book at 9 points, a slight change from the 8 points I have utilized before, as I think 9 points is just a little more legible. Otherwise, my type choices have remained the same.
The main image is an illustration of a Google Street car driving down a city street. Overall, I'm pretty happy with the illustrations, but I do think they could have been a bit more detailed. To the right, I have three blue boxes with smaller illustrations and texts further describing how Google Street View works. I chose the light blue color because it is a nice contrast to the darker blue and red buildings behind them. The first image is a closer look at the Street View camera, the second is of three Polaroids that have been "stitched" together with thread to symbolize the way the images captured by the Street View cameras are "stitched" together to create a single image. The third image is a small map graphic with a map pin to show that Street View can take the user practically anywhere.
Overall, I'm happy with what I came up with, especially since I took so long to settle on an idea for this project. Once I had my idea, I knew exactly what I wanted to do with it, and I think my vision came through pretty nicely.