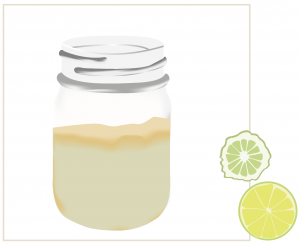 The hardest part of this project was honestly choosing what to make a diagram of. I'm not one who typically can dream up anything but need some guidelines. I think what I chose ended up being interesting because not only could someone learn how to make deodorant, but it also shares a way to try and help prevent breast cancer.
So I started writing this reflection and realized all I had to say were negative comments about my diagram, so I went through and changed it. I think that's something I've realized I appreciate about graphics, although it may take forever and be a hassle, there's always more I can do to improve. I like knowing that there's always more to know.
When reflecting on this project it's difficult to not just reflect on where I've come since graphic design 1. However, I'm going to try and focus on the assignment at hand.
I really enjoyed picking the colors, I feel like they're pretty natural and clean. However, the last illustration that shows what the deodorant will look like again kind of reminds me of colors that would be used to describe something that smells bad when it should have the opposite effect. I tried to work with it a lot, but I think in the end I wanted the illustration to be as true to what the actual color would be as possible.
I messed around with where to put the steps, but I think they're more effective on the right hand side because it's the way people are more familiar with reading directions. I stuck with the same style as I've used in all our projects and I think it was fine. I don't really like very bold types, and I think Myriad give the feel of familiarity, cleanses, and comfort I ended up going for. I think the thought of making homemade deodorant could really weird some people out, so I was hoping the style of my diagram would allow people to see it as "more normal." I believe this was successful.
Making sure everything was scaled was a pain in the butt because I kept screwing it up or the type would be stretched, but at the same time it was cool that when those problems came up I was able to fix them no matter how tedious it was at times.
Overall, it's been hard for me to reflect on this because I changed it so much, I feel satisfied with the final decisions I made.
If I could change anything it would probably be the placement of the limes and bergamot at the bottom, but all in all I am once again content.