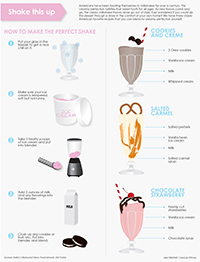 For my diagram project, I wanted to change subjects. I have been focusing on Tom Petty but I wanted to do something little bit more fun. I just got my wisdom teeth out and have been eating milkshakes left and right so I decided to make that the focus of my last project.
I have to say, I am really proud of the finished piece. Out of all our projects in this class, this one is by far my favorite. I really enjoyed doing the entire process for this project, from researching, to using the pen tool, and creating a layout. A fun topic definitely helped.
I had a difficult time with the layout and how I wanted to visualize this. I knew I wanted to include basic steps with ingredients but also, some finished milkshake flavors. My solution was to split the page and use a divider. I think this was the best way to make it readable and understandable. I think next time I would like to play more with the treatment of the headline and copy. I think this can be done in a more creative way but I didn't want to overpower the focus of the graphic with a busy headline.
I think this will make a great portfolio piece that I genuinely enjoyed doing.