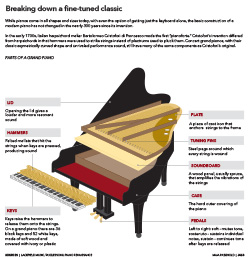 I'm pretty proud of this final project. I started by finding many reference images and other diagrams to see what the inside of a piano looks like, and I combined aspects of several different references to create my own.
The overall style of this piece is more magazine-oriented than my previous projects, which I personally prefer, with the more decorative callouts and flat-colored illustration.
I considered adding more highlights to the outside casing of the piano, and I played around with flat shapes or the gradient mesh tool, but I preferred a more simplistic style. I think one of the hardest things about diagramming complex objects is simplifying it enough to be easily understood and so readers can apply it to many different versions of what you're portraying. Pianos vary by make and model, so I wanted to focus on the basics of what every piano will have.
I could have done a more decorative type treatment, but wanted to stick to my established typography style for this class.