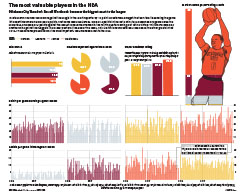 It's no secret that basketball is a sport all know, even if they don't watch it. I could argue that everyone knows at least one player by name. This past season Russell Westbrook was named the MVP of the NBA after much controversy. If you look at the votes alone it seems there's not much competition, but when you look at the statistics it's a little more vague as to why he was chosen. Harden was also one of the top players fans were rooting for, but the reason he didn't win in the end is because Westbrook is the best well rounded player. This infographic can be argued as timely because preseason for the next season is starting, but this also could be used in sports and entertainment.
The first bar chart is for how many wins each player contributed to for their team. I thought this chart would be effective because it doesn't just show how each individual player did, but how they helped their team grow.
The pie chart is for the overall free throw percentages for each player. This shows how each player did under the pressure. I originally thought this information would be really effective, but I think I could've chosen different statistics to show more how Westbrook shined as the overall player. This was, however, shown well through the bar chart over the player efficiency rating because no only does it compare Westbrook to Harden, Leonard, and James, it also shows how Westbrook's average is the best in the league as a whole.
The other two bar charts are broken up into each player to show the individual game statistics for the assists and points made per player per game. Originally I had these charts broken up into order from A-Z, but I decided to change this. The assists are lined up, as well as the points, in the order from fewest to greatest. The individual charts for each player makes it easier to read; however, I wish I would've been able to arrange them in a way were they were still clear but smaller. I had difficulty doing this because there are so many games played in the regular season.
The final graph, is for the votes given to each of these top four players. This shows that although all the other numbers in the charts were close, there's no controversy over who the real winner is. I also really enjoyed making an outline of Westbrook to try and make the chart package as a whole more visually appealing.
Overall I think the graphic turned out well, I like my typographic style because it's simple and clean cut which I think is effective for various types of infographics not just one specific set. I think my colors complement each other well and each were taken specifically from the teams. It's clear to see which data goes with each player and I think the subtle grey lines make it easier to see the divisions of the years. I unfortunately really struggled to effectively give the design a dominant element, which was really frustrating. I also don't think my headline grabs much attention. At the end of the day, I am pretty pleased with how this turned out. I put a lot of time and work into it so I'm content. However, if I were to do it again, I would probably have considered using different data or more focused data because I think having less graphics would allow readers to be able to focus on the package better because all the information, looking back, is a little overwhelming.